Consultative, Implementation, Operations
Nottingham has been serving the fund accounting, administration, organization, and management needs of clients nationwide for over three decades. Based in Eastern North Carolina, Nottingham delivers a full range of turnkey services, handling clients' behind-the-scenes financial and administrative operations so they can focus on managing their portfolios.
How did we get into this industry without being located in a traditional financial center? Opportunities and small businesses germinate and grow by fulfilling a need. In the late 1980s the investment advisory industry was moving away from bank trust departments and in the direction of independent investment advisory firms. As these firms grew the operational and administrative issues of handling smaller accounts became onerous. Nottingham sought to solve these issues for investment advisors and investment structure sponsors, and has been doing so for over 30 years. Nottingham has become one of the largest independently-owned fund administration and accounting firms in the United States.
Our Leadership Team
At Nottingham, we believe that intelligence, passion for excellence, and a pleasant family environment builds a strong organization. The longevity of many of our senior leaders is testament to an ongoing interest and dedication to the tasks at hand.
Our diverse group of leaders all share the traits of talent, focus and passion. The team fosters a culture of collaboration that is present throughout the company. Nottingham utilizes the EOS (Traction) management approach, which demands accountability and responsibility from everyone at our firm. Below you will find information about each member of our leadership team, including their professional experience and specific areas of expertise.
Strategic Advisory Council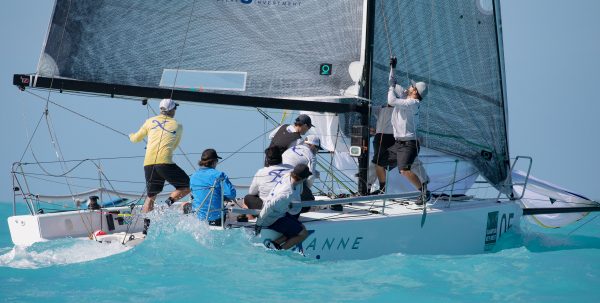 Why the Sailboats?
The Nottingham website is populated predominantly with images of sailboat racing. We see this as a twofold representation of the company. First, our CEO, has had a lifelong passion for sailing. He's owned several iterations of "Roxanne" that have competed to win 4 national championships. In between regattas, it is not uncommon to see a "Roxanne" in the Nottingham parking lot.
Sailing can be a good analogy for problem solving. When sailing into the wind, one cannot get to the end goal in a direct line. Angles and shifts in the wind direction come into play. The best sailors are often not just good tacticians, they are able to react to changes and even predict changes ahead.
Sailing is also a team sport, on bigger boats anyway. At Nottingham, our leadership and teamwork is evidenced by our over thirty-year tenure and leading-edge thought leadership and innovation. Everyone has a spot, an important role, each of which is interrelated and critical to overall success. Administering a fund properly has the same principles, and our culture is built around having the right environment and the right people in the right spots for our crew.
If you have a strategy that you want to take to a wider audience, tell us about it. We value your passion and we have the experience and expertise to help you navigate the process.