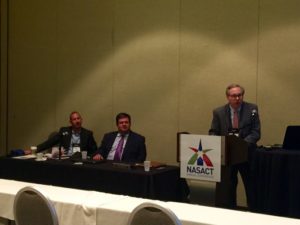 This month, Nottingham's Kip Meadows and JoAnne Jackson attended the NASACT Annual Conference in Indianapolis. The National Association of State Auditors, Comptrollers and Treasurers is an organization formed by financial representatives of state governments as a forum to discuss issues, find solutions, and share industry knowledge.  Georgia State Treasurer, Steve McCoy, moderated a presentation by Kip, CEO of Nottingham, and co-presenter David Matusoff, Executive Director of Indiana Management and Performance Hub.  They addressed the evolution of technology and leveraging existing technology to achieve efficiencies and cost savings.  The presentation spoke to technology – from its introduction in the industry's financial hubs to today when data can be accessed from almost anywhere in real time – and ended with a discussion of ways technology can improve financial management within municipal governments.
Nottingham would like to congratulate the 2016 NASACT Hall of Fame inductees: Edward Mazur of Virginia, Daniel Ebersole of Georgia, and Nancy Kopp of Maryland. AND the 2016 NASACT President's Award recipients:  Roger Norman of Arizona, Dianne Ray of Colorado, John Reidhead of Utah, David Von Moll of Virginia, and Mike Frerichs of Illinois.
Thanks for your years of service and commitment to the sound management of your respective states' financial resources.