Great companies are built by great employees. At Nottingham, we believe in associating with the best people and lett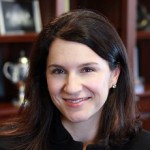 ing them use their considerable talents.
Kate Honey, Executive Vice President of Client Development, is the perfect example of this principle.
Without affecting her lifelong love of Duke University, Kate attended the University of North Carolina at Chapel Hill. After graduation, she began her career in brand development, marketing and communications, mostly working with B2B products. She joined Mottis in 2002, where she served as Director of Client Services. Nottingham retained Mottis, because we knew Kate, and her engagement with Nottingham began.
It did not take long to figure out that Kate "got it" when it came to business development, branding and marketing. After Kate completed a rework of those areas for Nottingham, we began a six-month campaign to convince Kate to come work with us full time. We remain thankful that one of our CEO's best sales presentations over that period convinced Kate to join us over a decade ago.
What began as a marketing role quickly evolved into a more client- and product-focused position based on Kate's obvious skills in recruiting, onboarding new talent and answering questions about new funds. Kate became instrumental in helping the company with these developments, leading to her current position as Executive Vice President of Client Development. In this role, she frequently consults on the investment vehicles services offered to ensure we implement the individualized solutions that will be most advantageous to each client.
Kate is also heavily involved in the day-to-day operations and oversight of client relationships at Nottingham, where she primarily serves as the Principal Executive Officer for the majority of registered fund series trusts that Nottingham administers.
Outside of work, Kate is an active member of the Eastern North Carolina community. She spends her time volunteering and serving as a trustee on the Rocky Mount Academy board, where her two children attend school. She also served as the first female president of Benvenue Country Club, and teaches Sunday school at her church.
If you're interested in learning more about our team, click here, and be sure to check back in to the Nottingham blog for future employee spotlight posts.